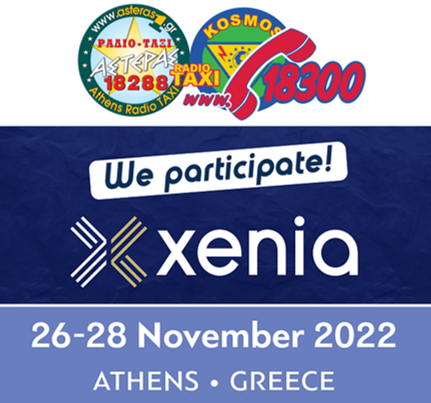 23/11/2022
Radiotaxi Asteras & Radiotaxi Kosmos are co – operating for one more time by participating at XENIA, which is taking place at Metropolitan Expo from November 26th to the 28th.

Radiotaxi Asteras and Radiotaxi Kosmos have the biggest fleet in Athens as well as the longest experience in co – operating with the biggest companies and exhibitions in Greece.
The professionalism of their employees as well as their will to keep ameliorating their services, are the reasons why both companies are the most popular in Greece.
The co – operation between Radiotaxi Asteras and Radiotaxi Kosmos at XENIA is the proof that the field of transportation is well prepared for the upcoming tourist season, which is already considered as one of the most successful ones for Greece.
Related posts